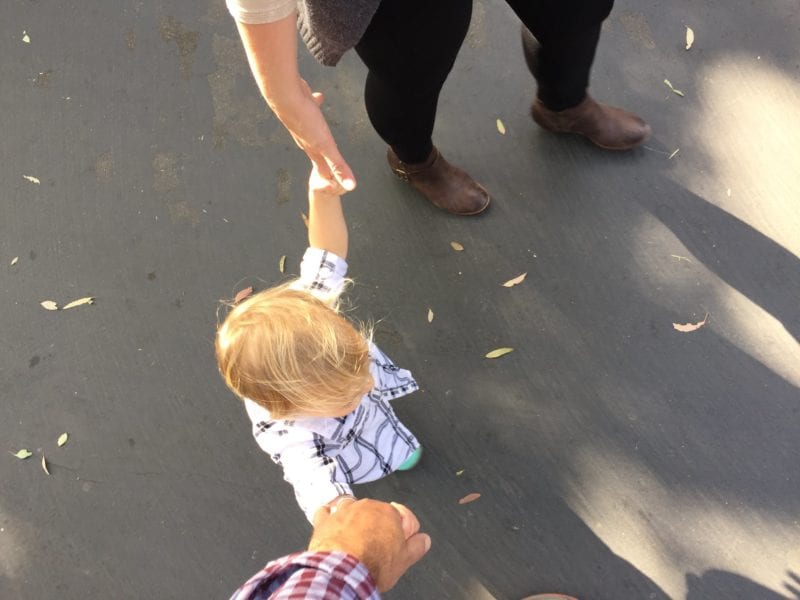 How Did We End Up Here? The Challenges of Co-Parenting
written by Tom McGee, LCSW
Many parents of infants and toddlers, that I talk to, seem overwhelmed. Mothers or fathers who spend the day with their children experience a long day of interrupted moments and partially finished tasks. They often come to the end of the day wondering where the time went. They are exhausted and spent. When their partner comes home from work, they have a compelling urge to hand off their infant or tot and go hide, just to get a few moments of alone time, to catch their breath.
The working parent is often gone on long days at work and may come home needing a few moments of peace and respite. But it is not theirs to enjoy. It is their turn to take over and begin a second job of being an active parent, changing, bathing, picking up, etc.
Although there are many variations on this theme, both mothers and fathers reach exhaustion, longing for some peaceful time, in the past or in the future, when they may have lived or will live a calmer life.
Amidst these early years of parenting, it can seem like a luxury to be able to set a course together, agree on goals or discuss the best ways to handle certain situations. Yet that is exactly what is called for in order to create a sense of family in which parents are able to truly care for their children and their relationship. Indeed, if they cannot find a way to tend their relationship, their success in parenting will be at risk.
Most parents I have talked with want to parent well. They want to demonstrate sensitivity to their child's needs, to make children feel adored, valued, and loved. They want to affirm their children's uniqueness. They also want to sustain strong values. They are willing to use discipline to teach rather than punish. They want to promote education as a process. They want to be an abiding presence for their children regardless of what comes up in life. They want to have good relationships with their children. They want their infants, toddlers and young children to be happy, and to meet all their physical and emotional needs.
Parents also want to have a good relationship with each other. It seems obvious but necessary to say that family begins with the parents' relationship, the initial coming together as a couple. Decisions about how to care for children, manage finances, and get household tasks accomplished must come from the parents, whether they are aware of working together as a couple or not. Yet that relationship can be very easily put on the back burner for what seem to be more pressing tasks of child care and running a household.
All parents, whether they are talking about it or not, are facing a variety of issues. No two individuals share exactly the same values. Even couples that largely agree on a variety of topics related to their family, usually have some differences and disagreements. Decisions about breastfeeding, nutrition, discipline, education, and family roles can easily bring conflict. Often these differences have their roots in each person's family of origin, the family they were born into, since values are largely passed on by children learning them from their parents.
What is the role of each parent in the family? Most parents have figured out by the time a baby is born who is going to work, and how much to bring in income, and who will take care of the children, when and where. But living out these decisions can bring regret or conflict, even if both parents are certain they have chosen the arrangement they prefer. Sometimes there are underlying doubts and concerns about what a woman's role or a man's role should be. It can seem much easier to know what "one's partner should be doing" than figuring out one's own feelings, responsibilities and limits.
How do parents nurture themselves or their relationships? How do mothers or fathers get time alone, time with friends, time with our partner? Young families in our society may be more isolated than ever before. For many, it is no longer the norm to have grandparents or other willing and able relatives available for child care so the couple can have time together or alone or just time to run errands without children in tow. Few of us actually live in a community that shares responsibility for the children. This is a loss to our society and our families that has not been adequately recognized, much less addressed.
It is absolutely necessary that parents find a way to communicate with each other in a calm and respectful manner about the differences and difficulties they are experiencing. Part of pursuing a long-term relationship is continuing to know the thoughts and feelings of your partner. It also means finding ways to compromise or find a third way so that a sense of teamwork prevails in the household. If one person feels abandoned or unappreciated, an imbalance exists which must be addressed for the sake of the whole family. Failure to address such an imbalance can eventually lead to serious family problems, depression, child behavior problems, or addictions. When the problems are successfully addressed, parents and children have a better chance of living healthy, happy lives.
Life will sometimes be overwhelming. That is the nature of life. It takes skill, understanding, and persistent devotion to consciously create the kind of family you actually want to live in. When parents move together toward strategies of communication, partnership, and resourcefulness, they are availing themselves of that possibility.